Ed & Gwen Diaz Biographical Information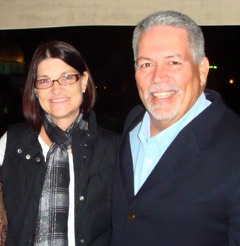 Ed and Gwen are both graduates of the University of Pennsylvania. Ed went on to graduate with a ThM from Dallas Theological Seminary in 1972. While in Texas, Ed gained local church experience serving on the original staff of Fellowship Bible Church in Richardson. He also has the distinction of being the first director of Pine Cove's Ranch Camp in Tyler, Texas, where Gwen served as the camp nurse.

Early in their marriage Ed and Gwen moved to Portland, Oregon where Ed was a co-founder of Walk Thru The Bible Ministries. After helping Walk Thru transition its headquarters to Atlanta, Georgia, Ed and Gwen moved to Florida and began to work with Search Ministries. For over 30 years, they focused on relational evangelism in the business community under Search's umbrella. Most recently, Ed and Gwen have founded 71:17 Ministries based on Psalm 71:17-18, and have made the next generation the focus of their outreach.

Ed has co-authored a men's devotional book titled The Winning Run published by NavPress, and served for many years as Spring Training Chapel Coordinator for the Detroit Tigers. Gwen is an accomplished author (with seven books in publication) as well as a gifted Bible teacher and Women's Conference speaker. She also ministers to young mothers with needs through her organization called
OH MY Baby
.

Ed and Gwen have been married for over forty years and live in Lakeland, Florida. They have raised four sons and, as a couple, they rejoice that all of their children walk with Jesus. (Zach, their eldest, is a homebuilder in central Florida; MattE recently retired from Major League Baseball; Ben is currently studying at Dallas Theological Seminary; and Jonny is an established Christian musician.) They have ten grandchildren who fill their lives with laughter and joy.


Psalm 71:17–18
Since my youth, O God, you have taught me,
and to this day I declare your marvelous deeds.
Even when I am old and gray, do not forsake me, O God,
till I declare your power to the next generation,
your might to all who are to come.